If you've been Paleo for any length of time, I'm sure you've gotten frustrated more than once trying to come up with something good to have for lunch…
Especially if you're on the job and brown-bagging it while your coworkers are all sitting around the lunchroom pounding down quarter-pounders with cheese.
It's only natural to be a little envious. Not because they're stuffing their faces with greasy processed food. Nah, you're past that. You're actually ticked because it only took them a couple of minutes at the fast food drive up to grab their burgers and fries. It's just not fair.
So I'm going to serve all of my Paleo peeps the first of what I'm calling my Paleo Right Now Recipes. These will be delicious meals that are easy to make and will give you more options at lunchtime.
This is my first one. It's super-easy and so darn good…Paleo Pesto Chicken Salad. I stuff mine into a fresh tomato, but you can just as easliy put it on a bed of spinach or salad greens and add any veggies you want. It literally takes 10 minutes to make it and voila you have a fast lunch or quick dinner. And if you really want to save time in the mornings, just make it the night before and tuperware it so you can just grab it from the fridge and go.
Look for more of these quick Paleo Right Now Recipes coming soon. We'll also have some slow cooker recipes as well — one of the easiest ways to cook Paleo ahead of time, and freeze the food in individual portions for reheating at work in the microwave. That's what I do all the time – very convenient (and you'll be the one making your coworkers jealous!)
We're working hard for our Paleo peeps to make your life a little easier and give you more tasty options that are quick, easy and delicious!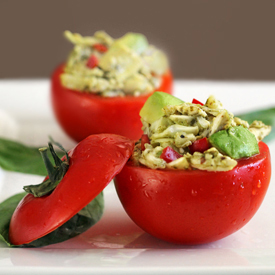 [button buttonlink="/recipe_posts/paleo-pesto-chicken-salad/" buttonsize="medium" color="ffffff" hovercolor="none" backgroundcolor="33740e" hoverbgcolor="3d8510″ icon="" rel=""]Paleo Pesto Chicken Salad Recipe[/button]